Although we work hard to deliver our kits complete and without any problem, it can happen that you experience missing or damaged part in your kit. Should this happen, please contact us for replacement at the email address below. We will also help if you damaged or lost a part during assembly.
1) If there is a part or sprue missing in your kit, please send us the kit name and number and information where the kit has been purchased, we will also ask for a photo of the damaged or missing part to check the nature of the problem in general. These parts or sprue will be supplied free of charge, but a small postage cost may be required depending on your location and replacement size
2) If you have lost or damaged a part during assembly, we can also help and send you replacement parts, but in this case we will charge production cost of the sprue and postage cost
For any replacement request please use this email address only:
Replacement radiator with enhanced detail for early batch of TM35200 1/35 Scammell Pioneer Tank Transporter and TM35204 1/35 Scammell Pioneer TRMU 30 Tractor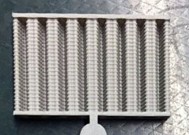 Replacement part assembly reference
This replacement part comes free of charge, but we would like to encourage you pay a little postage cost 1 Eur (USD 1,15) through the Paypal button below (no need to have Paypal account, it will also accept any major credit or debit cards). Because Chinese post is very slow in delivery, we prefer to send all replacement parts from our European warehouse to get it to you ASAP. This way we also get your shipping address and know your claim is legit without necessity checking when and where your kit was purchased and so on.
To proceed your replacement radiator part, please click the Paypal button below, you will be charged 1 Eur shipping cost and your part will be posted immediately. In case you have purchased more than one kit and more radiator parts is required, no need to pay for each, but please inform us about through email as soon as you have proceeded your payment.
"Scammell Pioneer Tank Transporter (kit# TM35200)とTRMU30 Tractor (kit# TM35204) キットの初期生産バッチにおいて、設計上の不具合により2つの冷却セグメントが欠けており、キットのラジエーターグリルにわずかな外観上の不正確さがありました。(いわゆる"不良品"ではありませんので組み立て上の問題はありません)
日本市場では輸入業者様の協力により、細部を修正した新しいラジエーター部品"A1"を、ごくわずかな購入費用で、各地の小売店や小売業者を通じて通常の販売ルートで御提供できることをご案内できますことを大変うれしくおもいます。
また、直接弊社に下記のPayPalボタンを使用してウェブサイト上でリクエストすることも可能です(PayPalアカウントを持っている必要はなく、主要なクレジットカードやデビットカードによる支払いもできます)、僅かな送料(1ユーロ又は1,15米ドル)をお支払い頂くことでお送りいたします。
配送は中国の郵便局の仕事が非常に遅いため、私たちはヨーロッパの倉庫からすべての交換部品をお送りします。
この小さなトラブルをお詫び申し上げます。
購入されたほとんどの方がお気づきにならないほどの僅かな不正確さですが、改善する必要があると判断し、ご案内したものです。
日頃からのあなたの応援と信頼に感謝します。
近い将来、よりエキサイティングなモデルをお届けします。"
.