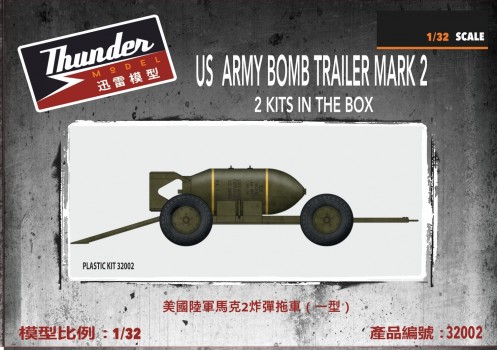 US Army Bomb Trailer Mark 2 Mod.1
The bomb trailer Mark 2 was a low-slung, heavy type trailer with a central bomb cradle for bombs up to 2000 lbs type.
Bombs were held in the cradle by a load binder chain with an eccentric tightener. The trailers were used to position bombs
under airplanes when there was a little space between the fuselage and the ground. A loading ramp stored under the trailer
was used when the bombs were loaded by hand from the ground. These trailers were attached for towing to Bomb trailers
Mark 1 or Mark 3 or to bomb service trucks or cargo trucks and tractors .
Bomb trailers Mark 2 Mod.1 and Mark 2 Mod.2 were identical.
- 4 plastic sprues with 50 parts